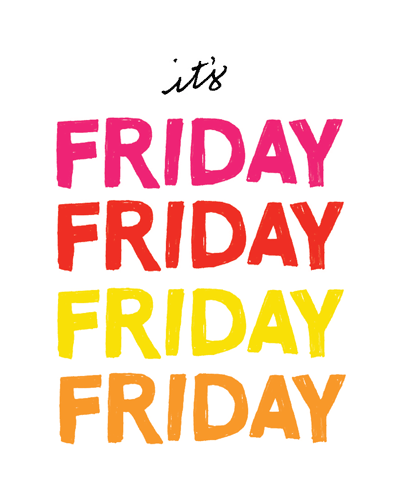 [source]
Have I told you I love Fridays? I am in love with Fridays! It's not just because the work week ends…I actually love my work. But it's the thought of the weekend as a blank canvas…two days of endless possibilities. It wouldn't be me if I didn't write a weekend [wish] to-do list, but since Kiki has joined us, those lists have become nothing more than a wish list. But that's alright, I am loving my weekends just the way they are – a little less sleep for me, but I smile so much more when I look at that little beautiful face. Even though my to-do items don't get completed, I feel complete, and happy.
I am ready for this weekend to get start….I am not sure what we will do, but I know I will enjoy every moment of my time with my little bundle of sunshine!
Q: What is your favorite day of the week? What will you do this weekend?
weekend